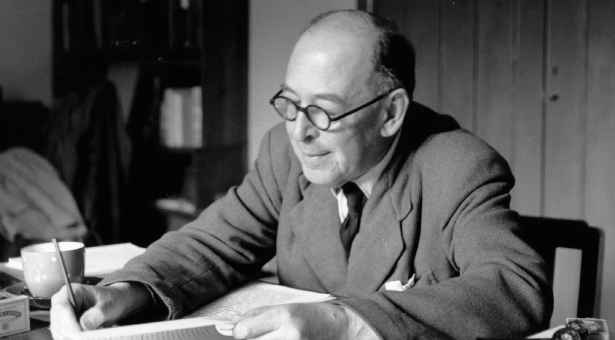 The New York C.S. Lewis Society
"We make men without chests and expect of them virtue and enterprise. We laugh at honour and are shocked to find traitors in our midst."
​C.S. Lewis,

The Abolition of Man
Jerry Walls shows why CS Lewis believed in purgatory, and why this doctrine is integral to, and naturally follows from, his understanding of "mere Christianity." October 25, 2012
Michael Ward - Narnia , C.S. Lewis & Classical Cosmology Pt. 2
The First World War laid waste to a continent and permanently altered the political and religious landscape of the West. For a generation of men and women, it brought the end of innocence – and the end of faith. Yet for J. R. R. Tolkien and C. S. Lewis, the Great War deepened their spiritual quest. Both men served as soldiers on the Western Front, survived the trenches, and used the experience of that conflict to ignite their Christian imagination. Had there been no Great War, there would have been no Hobbit, no Lord of the Rings, no Narnia, and perhaps no conversion to Christianity by C. S. Lewis.
Michael Ward - Narnia , C.S. Lewis & Classical Cosmology Pt. 2
David Payne stars in this one-man play
​recalling the life and times of C.S. Lewis.
An interview with Walter Hooper on "The Journey Home" television program on EWTN which aired July 2003.
On the evening of October 29, 2015 the Marion E. Wade Center celebrated its 50th anniversary. Speakers include, in order: Marjorie Lamp Mead (Interim Director, Wade Center), Lisa Welchert (Wade Family representative), Philip G. Ryken (President of Wheaton College), Leland Ryken (Wade Board), Jeannette Bakke (Friend of the Wade), Gerald Root (Wade Board), Lyle W. Dorsett (Director Emeritus, Wade Center), William Phemister (Professor Emeritus of Piano, Wheaton College), Luci Shaw (Poet and Wade Board Emerita), Carolyn Hart (Associate Professor of Voice, Wheaton College), and G. Walter Hansen (Wade Board).

Owen A. Barfield, along with Dr. Michael Elam, Dr. Micahel DiFuccia, and Dr. Bill Brown, discusses his grandfather's work and thought.

Owen Barfield was one of the twentieth century's most original thinkers. A philosopher and poet, Barfield was a friend of C. S. Lewis and J. R. R. Tolkien, both of whose works were influenced by his ideas. Owing to his friendship with Lewis from their student years and his long life, Barfield has been called "the first and last Inkling," a reference to the informal literary circle of that name at Oxford.